The Finn Bark Blower has become as much a necessity in the landscape industry as the "Bobcat" became in the 80's. If you are spreading more than 300 cubic yards of bark mulch per year, you are already spending the money it costs to own a Finn Bark Blower in wasted labor and material. Give us a call and we'd be happy to come by with a machine so you can see for yourself. Through an easy to understand payback analysis, we can show you the benefits and opportunities the Finn Bark Blower will bring to your company.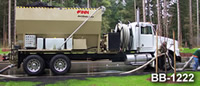 FINN Model BB1222
The FINN BB1222 applies landscape mulch and other bulk materials with unprecedented efficiency, and eliminates the need for labor-intensive hand application. The BB1222, with 21.8 cubic yard capacity, provides high efficiency mulch application capabilities for landscape maintenance companies and mulch suppliers.
Technical Specs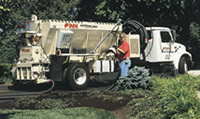 Finn Model BB1208 and 1216
Models BB1208 and BB1216 were added to the Bark Blower family in 2003. These units were designed specifically to do a couple of things: convey the heaviest of materials (loam, stone etc.) and to convey large volumes of lighter materials (bark mulch, compost, playground chips) to large areas very quickly.
Technical Specs
---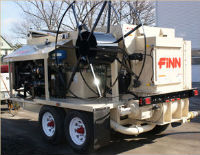 FINN BB 5 Series
This new model is designed with ease of use and reliable performance in mind for landscape and erosion control contractors. With its simplified control package and streamlined engineering design, the BB 5-Series will be a dependable workhorse for the application of mulches, soil blends and compost and has the added benefit of being straightforward to use and maintain.
Read more.. →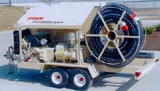 FINN Model BB302
The Finn model BB302 has been the most popular unit among Hydrograss customers here in New England. With over 150 machines working in the field, this machine has proven it's durability and performance, time and time again. Model BB302 can easily apply 12-15 cubic yards of material per hour through the included 150 ft. of 4" flexible discharge hose that is conveniently stored on the included hose reel.
Technical Specs →
"How can we help you today?" Call 1-800-451-8838
Increase Profits Through Multiple Applications
Your FINN Bark Blower will keep you busy earning profits with numerous applications, including:
Soil / Compost
Lawn and Sports Field Overseeding
Interiorscape Material Application
Erosion Control
Aggregate Installation
What they're saying about FINN Bark Blowers...
"Our first machine saved us 700 hours in labor during the first week we owned it. We put guys to work in other areas to help us grow. Now we are making money on every mulch job we do. If we had not bought our FINN Bark Blower, we would not be as big or as profitable of a company as we are."
-Jim K. Cambridge Landscapes