Our industry changes almost everyday and here at Hydrograss we feel that as your trusted partner, it is very important for us to stay informed and to keep our customers up to date. Here you will find information regarding new products, new services, technical bulletins, tradeshow information and company information.
UPCOMING SHOWS in 2014
NYS Water Quality Symposium
March 11, 2014
Holiday Inn
Binghamton, NY
New York Hard Hat Expo
March 19-20, 2014
NYS Fairgrounds
Syracuse, NY
CNLA Summer Field Day
July 17, 2014
Summer Hill Nursery
Madison, CT
MNLA Summer Conference & Tradeshow
July 24, 2014
Savage Farms
Deerfield, MA
---
FINN & hydrograsscorp in NYC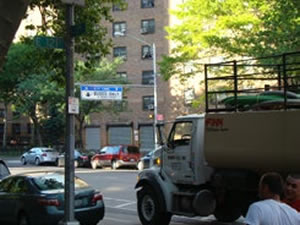 Adam's European Contracting, Inc. of Brooklyn, New York, is an award winning general contracting construction company that specializes in exterior renovation work, including masonry, roofing, excavation, and stone work for public agencies and commercial buildings. Malgorzata Skarzynski, a Polish immigrant, established the company in 1994 and under her leadership has expanded its construction services to cover all five boroughs of New York City and now employs nearly 500 people.
---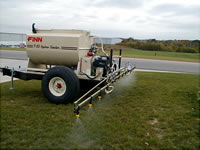 CUSTOM FINN EQUIPMENT
Finn Corporation and hydrograsscorp.com have always worked together to understand your requirements and identify all of your specific needs early in the process, so that they may achieve the most efficient and cost effective approach to developing solutions for your company's special requirements.
---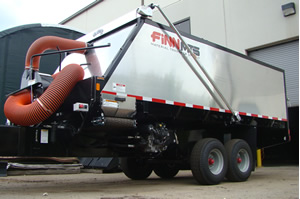 FINN MTS (Material Transfer System)
The Finn MTS (Material Transfer System) is designed to carry and discharge heavy aggregate, soil mixes, mulch/compost, wood chips/debris, cordwood, nursery stock and palletized loads. The Finn MTS is also equipped with a powerful Multi Purpose Vacuum for leaf and debris pick up. The triple discharge capability allows for materials to be loaded into wheelbarrows from curbside or roadside with no messes or stockpiles or up to 15 cubic yards of materials can be discharged out the rear of the machine in less than a minute!

Here are some markets this new equipment fits into:
Landscaping Construction & Maintenance
Nursery & Garden Center
Wholesale & Retail Landscape Materials Facilities
Municipalities
General Construction
Firewood
Colleges, Universities & School districts
---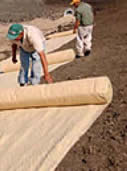 FUTERRA® F4 Netless™
Here at Hydrograss Corporation we are constantly working with manufacturers to develop new products with customer input and suggestions being our number one priority. The golf industry had suggested a blanket that wouldn't get caught up in the mowers. Introducing.... Futerra® F4 Netless™... a whole new way to look at blankets. Compared to its netted predecessor, it's lighter, yet loftier and more dimensionally stable-while providing even higher levels of slope protection and vegetative establishment for fine turf and environmentally sensitive applications.
Call us @ 1-800-451-8838 or 207 487-2733 for a free product demonstration.
---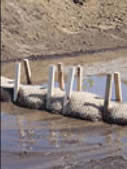 TERRA TUBES™
The newest product to the Hydrograss product line is Terra Tubes™. Terra tubes™ are cylindrical tubes filled with wood fibers and polymers, encased in a knitted, biodegradable cloth. The product is used as:
~Slope Interruption Devices
~Ditch Checks
~Drain Protection
~Perimeter Sediment Control
Terra Tubes™ are most beneficial when used in conjunction with Hydroseeding and/or Blanket reinforcement.
"The difference is clear"
See why Terra-Tubes™ leaves wattles, fiber rolls and similar technologies in the dust. No other product provides Terra-Tubes'™ three primary functions - FLOW, FILTRATION, and FLOCCULATION.
For more information and product demonstration call
1-800-451-8838 or 207 487-2733
.