MBH6 Material Blower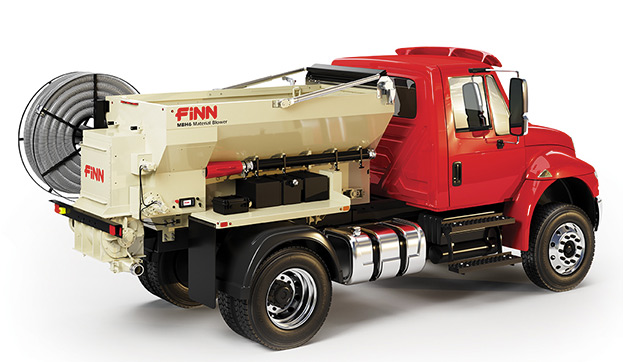 The new MBH6 Material Blower is designed with simplicity and reliability in mind for landscape and erosion control contractors. Its simplified control system, with multi-language capability and streamlined engineering design, make it a dependable workhorse for bark, mulch, compost and soil blend applications. This mid-size Material Blower is easy to operate, maintain and troubleshoot, leading to vital uptime and optimal productivity. Products can be applied on virtually any terrain, even in wet conditions, and the MBH6 can be especially profitable when accessing hard-to-reach areas.
Saving Time & Labor & Material = Profitability
Save labor by avoiding the manual work of spreading material using wheelbarrows and rakes. Two workers alone can apply 15 cubic yards of mulch per hour with the MBH6, depending on job conditions and material. This means that you can make more money by doing more jobs in a day and putting your extra laborers who were moving product with wheelbarrows and rakes to work for you on more profitable projects! Additionally, you can save as much as 25% in product due to the ability to blow a smooth, even layer, rather than the thick and thin irregular application that happens when product is spread manually.
Applications
The new Material Blower is perfect for the large mulching projects such as residential and commercial mulch beds, slopes, public gardens, playgrounds, amusement parks, sports field overseeding, erosion control/berms, mall interiorscapes, and other applications that require precise placement of organic materials.
With the versatile new Material Blower you can do professional quality mulching, slopes, erosion control, overseeding, soil/compost, and a number of other profitable applications. Mulch can be applied on virtually any terrain, even in wet conditions.
Erosion Control
Landscape
Post-Construction
Highway / Oil /Gas / Pipeline
Golf Courses
FEATURES & BENEFITS
Full 6 cubic yard material hopper for increased productivity and clear-cut job costing
Simplified control system for ease of operation, ease of training, and reliable performance
Simplified unit design for critical uptime and easier maintenance and troubleshooting
Lightweight design for increased payload capacity and more versatile towing options
Fuel tank sized to run machine for at least 6.6 hours
Side mounted engine with an open design for enhanced maintenance access
Convenient hose reel, hydraulically powered, and provided with 150 feet of 4-inch blower hose
Electric tarp standard to help meet DOT laws for load coverage
Optional hose hookup water injection system for dust suppression in particularly dry conditions or with particularly dry materials
Centralized lubrication points for increased serviceability
Radio remote with visible set points for engine/blower speed and feeder speed
technical specifications PDF