FINN Strawblowers

Finn Model B-70
Shreds and blows 6-7 tons of straw per hour
The B-70 is the Finn Mulch Spreader for all mid-size mulching needs. Designed to handle from good to the poorest quality material, the B-70 give you high productivity and dependability essential for tackling home sites, industrial and commercial projects and highway roadsides. The Model B-70 is the result of Finn's continuing effort to refine and improve mulch spreaders since we first introduced them back in 1949. The B-70 is designed to provide the highest productivity (up to 7 tons per hour) with maximum operator control and convenience.
B70 specs
---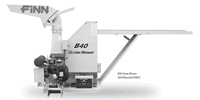 FINN Model B-40
Shreds and blows 2-3 bales of straw in less than a minute
Finn brings mulching ease to small landscaping operations by introducing the B40 Straw Blower. The B40 Straw Blower will save you time and energy by eliminating tedious and time consuming hand mulching. By using this self powered blower, mulching in diverse locations is a snap because of the unit's portability. The mulch cover applied by the B40 Straw Blower is far superior to that of hand mulching, ensuring you of a faster and more uniform growth. Blow mulch evenly over large areas with ease.. the B40 Straw Blower efficiently shreds and blows 2-3 bales of straw in less than a minute.
B40 specs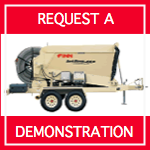 Click image to request machine demonstration
More on Finn Strawblowers
The road construction boom following World War II gave Charlie Finn an idea that revolutionized how labor and materials are used on the job site. He called his concept the FINN Straw Blower, and with it offered landscape contractors the opportunity for amazing gains in efficiency and profit.
Designed to deliver smooth, reliable power for maximum straw shredding and discharge, FINN Straw Blowers make quick work of straw mulching even in the most demanding conditions. FINN offers a technologically advanced line of Straw Blowers to handle jobs ranging from small lawns to massive mining sites.
---
Efficient Coverage of Many Profit Areas
Your FINN Straw Blower will keep you busy earning profits with numerous applications, including:
Seed Protection
Soil Stabilization
Mud Control
Pipelines
Agriculture
Erosion Control
Underground Utility Construction
What they're saying about FINN Straw Blowers
"FINN Straw Blowers have made it possible to achieve a 30-40% material savings and to get an incredible savings in labor of 80% over hand mulching. Having tried a competitive unit in the past and seeing how it would bog down while trying to chop straw, it is obvious that nothing compares to the performance and capabilities of the FINN."
-Steven B. Final Grade Inc.
---
FINN Straw Blower Features and Benefits
Extension Hose & Adapter
Optional 50 foot extension hose reaches difficult areas with more controlled discharge.

Dynamic, Balanced Discharge Head
Allows for easy one-handed control and reduces operator fatigue.

Independent Clutch Control
A variety of mechanical, electrical, and hydraulic clutch designs are used enabling independent control of the blower and engine with efficient power transmission.

Flail Chain System
Separates the straw instead of cutting it, yielding uniform length and a stable straw matrix to protect seed.
"Questions? We have answers! Call 1-800-451-8838"