FINN Bark Blowers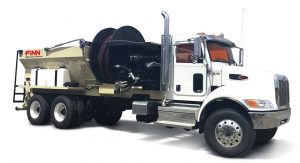 MBX Material Blower
Designed for EXTREME duty, the MBX Material Blower is a versatile machine that efficiently processes a variety of landscaping materials including: bark mulch, wood chips, compost, soil amendments and other bulk materials. Effectively applying up to 22 yards of bulk mulch per hour, compared to less than 2 cubic yards per hour via hand application, the MBX is a durable performer built for high output and reliability.
More on the MBX10, 16 & 22
---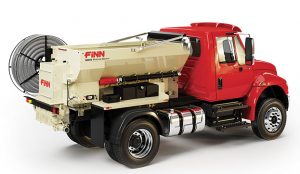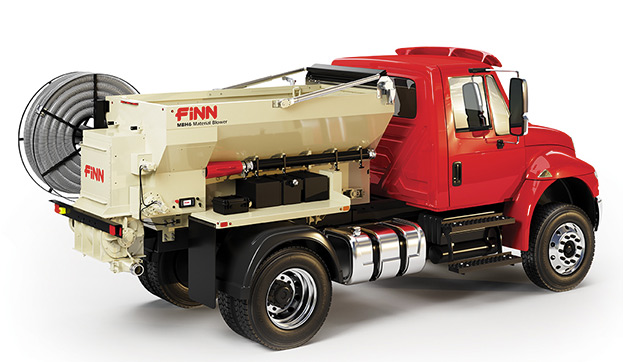 MBH6 Material Blower
Redesigned with you in mind, the new Material Blowers from FINN provide improved productivity, added value, along with many customer requested enhancements. This new T4F Material Blower will include a revolutionary new design and patent pending features designed to make your job easier and you time more productive.
More on the MBH6
---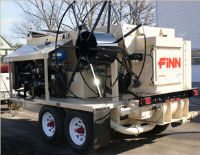 FINN BB 5 Series
This new model is 
designed with ease of use and reliable performance in mind for landscape and
erosion control contractors. With its simplified control package and
streamlined engineering design, the BB 5-Series will be a dependable
workhorse for the application of mulches, soil blends and compost and has
the added benefit of being straightforward to use and maintain.
---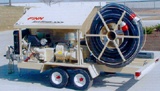 FINN Model BB302
The Finn model BB302 has been the most popular unit among Hydrograss customers here in New England. With over 150 machines working in the field, this machine has proven it's durability and performance, time and time again. Model BB302 can easily apply 12-15 cubic yards of material per hour through the included 150 ft. of 4" flexible discharge hose that is conveniently stored on the included hose reel.
bb302 Specs
See Also:
FINN Equipment Rental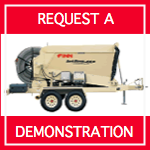 Click image to request machine demonstration
Increase Profits Through Multiple Applications



Your FINN Bark Blower will keep you busy earning profits with numerous applications, including:



Soil / Compost




Lawn and Sports Field Overseeding




Interiorscape Material Application




Erosion Control




Aggregate Installation



What they're saying about FINN Bark Blowers…
"Our first machine saved us 700 hours in labor during the first week we owned it. We put guys to work in other areas to help us grow. Now we are making money on every mulch job we do. If we had not bought our FINN Bark Blower, we would not be as big or as profitable of a company as we are."
-Jim K. Cambridge Landscapes

---
FINN Bark Blower Features and Benefits
Rotary Airlock
Our exclusive Rotary Airlock conveys a wide variety of bulk materials and particle sizes.

Radio Remote Control
Control feed and discharge rates while spreading, with control panel or radio control.
 

Dust Suppression
Control dust with the adjustable rate liquid injection system.

Air Pump


High volume, efficient air pump carries material smoothly through hose lengths of 300' or more.


Electric Tarp


At the flip of a switch, the tarp retracts for loading, and extends for covered transport.


Optional Seed Injector


The optional seed injection system allows for easy blending of seed into compost and soil blends.


Today as an award winning distributor of FINN Equipment, hydrograsscorp.com offers both new and like new pre-owned equipment, rental units and an array of thoroughly tested and proven consumable products including fiber mulches, fertilizer, grass seed mixtures, Finn consumable products and erosion control blankets. hydrograsscorp.com also offers authorized Finn Equipment service and winter storage at our locations in Maine and New Hampshire and have multiple mobile units for road support as well as a fully stocked parts department. The hydrograsscorp.com team is committed to providing the best products and service in the green industry.