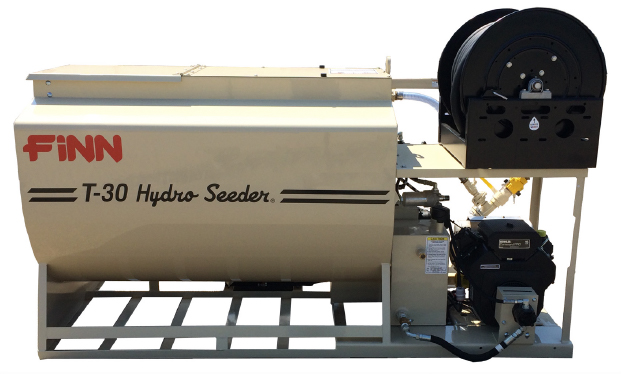 Finn Hydroseeder Model T30
335 Gallon Working Capacity Tank
The Finn T30 HydroSeeder® has been modified and redesigned to provide the ideal entry-level machine loaded with features that come standard with every unit. You can easily manage professional quality seeding, fiber mulching, straw tacking, and much more – all with legendary FINN efficiency and cost effectiveness.
A versatile, economical Finn HydroSeeder® loaded with big machine features. Perfect for Residential areas, Golf Courses, Sports Fields, Parks or Cemeteries.
The T-30 is Finn's smallest and most economical HydroSeeder® ever. With it, you can do professional quality hydroseeding, fiber mulching, fertilizing, straw tacking, foliar feeding, dust control, remote watering and more, efficiently and cost effectively. The T-30 readily doubles as a first response firefighter, portable wash-down rig, or mini water carrier. It also mixes and applies a wide variety of liquid, powdered or solid additives for landscape, soil building, erosion control, cleaning, and industrial uses.
Finn has been designing and manufacturing HydroSeeders® since 1953. Let this experience and expertise go to work for you with the T-30 HydroSeeder®.
FEATURES AND BENEFITS
Durable, 335 gallon capacity steel tank
Standard electric hose reel with 100 ft. rubber hose
Hydraulically-driven and reversible mechanical agitator, ordinarily found only on larger machines for fast and thorough mixing
Rugged, reliable mechanics for long life and easy maintenance
Simple control for a one-man operation that is both economical and profitable
FINN designed centrifugal pump that handles the thickest of slurries with ease
70′ spray distance from end of hose
FINN's top-notch design, engineering and quality construction
---
FINN MODEL T30 TECHNICAL SPECIFICATIONS
POWER: Kohler CH620 19 hp (14.2 kw), electric start, air cooled gas, oil guard protection
TANK SIZE: 335 gallon (1,268 liter) liquid capacity, 281 gallon (1,063 liter) working capacity
LOADS PER ACRE*: 10.68
FUEL TANK CAPACITY: 4 gallon (15.1 liter)
PUMP: Centrifugal 3" x 1 1/2" (7.5 cm x 3.75 cm), 65 GPM @ 60 psi (227 lpm @ 414 kPa), 3/4" (1.9 cm) solid clearance
PUMP DRIVE: Direct drive through electric clutch, pump drive is independent of agitator operation
AGITATION: Mechanical paddle agitation and liquid recirculation
AGITATOR DRIVE: Reversible, variable speed hydraulic motor (0-130 rpm)
DISCHARGE DISTANCE: Up to 70 ft. (23 m) from end of hose
MATERIAL CAPACITY: 500 lbs. (227 kg) granular solids, 100 lbs. (45 kg) fiber mulch
NOZZLES: (1) narrow fan, (1) wide fan, (1) long distance
HOSE REEL: Standard electric hose reel with a 12V electric motor, 100' x 1 1/4" semi-rigid polybraid hose and hose holder
EMPTY WEIGHT: 1,480 lbs. (671 kg)
WORKING WEIGHT*: 4,560 lbs. (2,068 kg)
*Loads per acre based on an application rate of 1500 lbs. mulch/acre.
*Working weights are approximate and do not include stored materials.

Other FINN Models
FINN Corporation has a policy of continuous product improvement, and reserves the right to change design and specifications without notice.
HydroSeeder® and the FINN Design® Logo are registered trademarks of FINN Corporation.