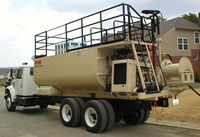 Finn T-400 HydroSeeder® – 3,600 Gallon Working Capacity Tank
The FINN T-400 is the newest, powerhouse addition to the legendary Finn HydroSeeder® family. These units are designed to meet the needs of large-scale jobsites and demanding seeding applications. The new conveniences, greater versatility and increased operator efficiencies are unmatched in the industry delivering the utmost in performance and productivity. This outstanding 3,600 gallon working tank capacity offers a great value for your investment.
The T-400 HydroSeeders® have the capabilities and output to handle large mine reclamation, highway, golf course and commercial sites.
A newer, larger slurry pump, coupled with a turbo charged diesel engine, provides more pump pressure and output, resulting in faster slurry discharge and distance for added
productivity. Finn's exclusive two valve straight discharge piping allows maximum flexibility for the applicator.
Stronger hydraulics, larger agitators and our unique tank profile make quick and thorough mixing of the widest range of mulches, additives and concentrates. The redesigned loading
hatch is larger and incorporates bag cutters and safety grates. For simpler tank filling, a 6″ air gap fill port mounted at truckframe height is standard equipment on every T-400/330 and T-280.
Overall efficiency is increased through changes made to improve operator convenience and safety. Engine safety guages, controls, key start, throttle, clutch, agitator controls and s pray discharge boom are all located on the deck tower in the right rear corner. The increased capacity fuel tank is side mounted for easier filling.
If high output productivity, rugged hydraulics and durable, time-tested engineering factor in your hydraulic planting business, we invite you to inspect the machines that clearly demonstrate our commitment to service the landscape, reclamation and erosion control industries, the new T-400/330 and T-280 Finn HydroSeeders®.
FEATURES AND BENEFITS
3,600 gallon working capacity tank
Exclusive 2-valve straight line discharge piping improves slurry flow resulting in higher output, pressure and greater slurry discharge distance
Optimum mixing capabilities featuring twin hydraulically controlled paddle agitation, liquid recirculation and a hefty hydraulic system
Features the time-tested and field proven "clump" technology integrating a single shaft design of the clutch/pump to maxiize mechanical efficiency
Agitator and pump are independently driven allowing complete mixing of the slurry without pump operation enhancing mechanical longevity and flexibility during operation
A larger slurry pump coupled with a turbo charged engine provides more pump pressure and output resulting in faster slurry discharge and distance
Relocated discharge boom to a more centralized location increasing operator comfort and rear sweeping pattern
Tier III engine control panel integrates into the discharge boom mount with a engine start/stop; throttle switch; and pump control putting the controls at the operators finger tips
Newly designed loading hatch with a larger opening and curbside hinged lid enables more efficient loading and less spillage of material
Operator platform and access ladder are perfect for improved comfort and accessibility
Relocated fill port for sump filling and a heavy-duty suction line gate valve
Discharge distance up to 230 feet from end of the tower
Optional remote control for engine throttle and pump functions allowing for true one-man hose operation
Optional low profile pivoting hose reel with 3 locking positions enabling curbside, 45 degrees and rear hose discharge
---