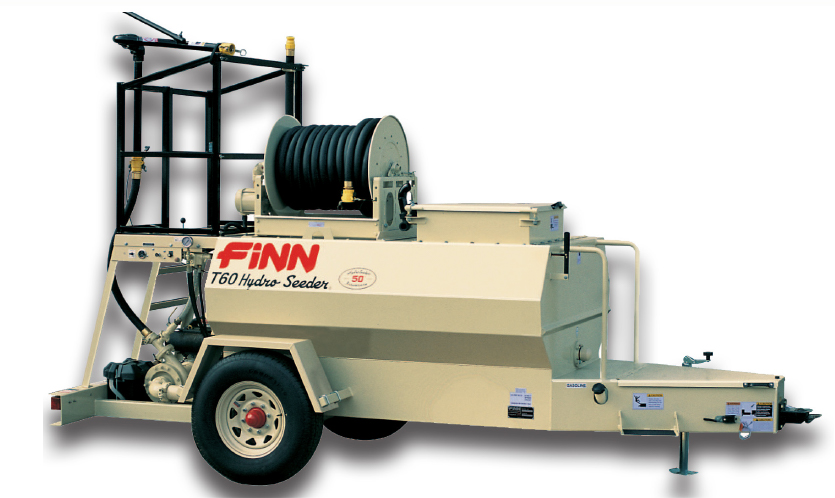 T-60 HydroSeeder® – 600 Gallon Working Capacity Tank
The Finn Model T-60 Series II is the ideal 600 gallon HydroSeeder® for the landscaper or contractor who needs an economical machine for seeding smaller jobs. Coverage is up to 7200 square feet per load with seed, fertilizer and mulch in an easy, one-step process.
Private homes, ball fields, apartments, condominiums and golf course work are just a few of the ideal applications for the T-60. For a small investment you can become a one-person seeding and mulching crew.
The T-60 combines top machine performance with a clean, operator friendly design. For the maximum in mixing efficiency, the T-60 features both hydraulically controlled paddle agitator and liquid re-circulation. For operator convenience, agitator controls are at each end of the tank. A low machine profile allows for easy material loading and excellent sta bility. A large tool box in the hitch can be used for storing hose & nozzles.
Finn's powerful centrifugal slurry pump is driven by an in-line common shaft clutch, eliminating high maintenance belts and coupling. This new configuration dramatically increases output and operating pressure.
FEATURES AND BENEFITS
Top designed 600 gallon capacity steel tank that covers up to 7200 square feet per load with seed, fertilizer and mulch in one simple step
Clean, operator friendly design with a low machine profile allowing for easy material loading and excellent stability
Optimum mixing capabilities featuring hydraulically controlled paddle agitation and liquid recirculation with convenient operator controls at both the front and rear of the unit
Large toolbox in the hitch perfect for storing hose and nozzles
FINN designed centrifugal pump driven by an in-line common shaft clutch with no high-cost maintenance couplings, drive belts or hydraulic
components
Pump configuration dramatically increases output and operating pressure
Discharge distance up to 90 feet from end of the tower
---
FINN MODEL T60 TECHNICAL SPECIFICATIONS
POWER: Kohler CH730, 23.5 hp (17.5 kw), 2 cylinder, OHV, air cooled gas
ENGINE SAFETY SYSTEM: Low oil pressure, high temperature shutoff
TANK SIZE: 600 gallon (2,270 liter) liquid capacity 500 gallon (1,890 liter) working capacity
LOADS PER ACRE*: 6
FUEL TANK CAPACITY: 8.2 gallon (31 liter)
PUMP: Centrifugal 3" x 1 1/2" (7.5 cm x 3.75 cm), 65 GPM @ 75 psi (245 lpm @ 5.3 kg/cm2), 3/4" (1.9 cm) solid clearance, adjustable
PUMP DRIVE: Direct drive through electric clutch, pump drive is independent of agitator operation
AGITATION: Mechanical paddle agitation and liquid recirculation
AGITATOR DRIVE: Reversible, variable speed hydraulic motor (0-110 rpm), with control lever at front and rear of unit
DISCHARGE DISTANCE: Up to 90 ft. (27 m) from end of discharge tower
MAX. MATERIAL: 1,550 lbs. (703 kg) granular solids
CAPACITY: 200 – 250 lbs. (91 – 113 kg) fiber mulch
NOZZLES: (1) narrow fan, (1) wide fan, (1) long distance
EMPTY WEIGHT: T60T 2,770 lbs. (1,257 kg) T60S 2,170 lbs. (985 kg)
WORKING WEIGHT* T60T 7,770 lbs. (3,525 kg) T60S 7,170 lbs. (3,253 kg)
BRAKES: Electric with break-away switch
LIGHTS: D.O.T., including marker, identification lights, and license plate bracket
TIRES: ST225/90D16 bias ply tires, load range E
HITCH: 2 5/16" (5.87 cm) ball or heavy-duty lunette eye Includes large storage area
HITCH WEIGHT: Approx. 1,300 lbs. (590 kg) max load
*Loads per acre based on an application rate of 1500 lbs. mulch/acre.
*Working weights are approximate and do not include stored materials.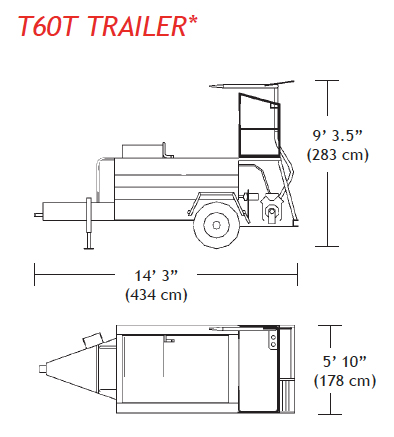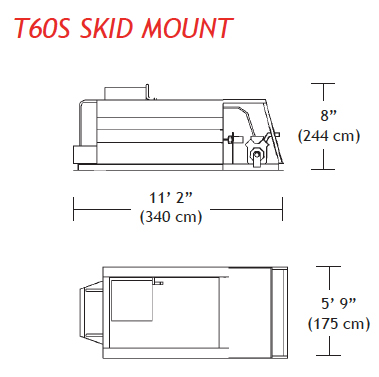 See
Other FINN Models
FINN Corporation has a policy of continuous product improvement, and reserves the right to change design and specifications without notice.
HydroSeeder® and the FINN Design® Logo are registered trademarks of FINN Corporation.