Titan HT 300 / 400 Tier IV Final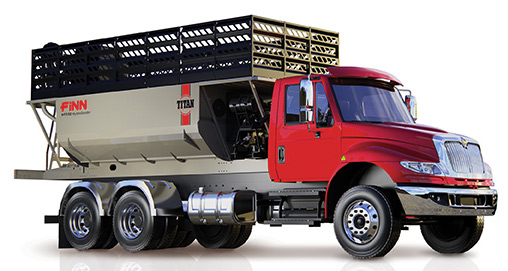 More horsepower with high efficiency hydraulic system.
173HP Tier IV Final John Deere water cooled, turbo-diesel engine
Self-diagnosing engine including low oil pressure and high temperature shut-off system
Innovative control system, with multi-language capability, to control all machine functions
Electronically controlled hydraulic system to enable maximum performance and productivity
6 x 3 inch, hydrostatically driven 530 gpm centrifugal pump standard and an optional 6 x 3 hydrostatically driven 465 gpm vortex pump
Two (2) heavy duty, reversible and variable speed mechanical agitators with liquid recirculation
Agitator speed and direction control is independent of engine speed for faster loading
More flexibility
Single boom, dual boom or hose application
Mix and spray any material from the heaviest slurry BFM's, FGM's, plaster-based additives and lime
Pump and agitator speed independent from engine speed
4000 or 3300 gallon tank capacity
Increased deck space with integral tie down points for increased material storage – storage for up to 8 pallets on the HT400
Optional stainless steel tank and agitators
Optional air-flush system available
More versatility and speed
High power agitators for grinding and mixing tough/heavy slurries
Optimized agitator paddle layout for increased material circulation in the tank and reduced potential for air entrainment in the slurry
Optimized 6 inch suction line for faster unloading – ideal for re-vegetation using aircraft or large area coverage
Why Titan? Best performance, best productivity and ultimate convenience of any unit on the market.
Features and Benefits
Spraying distances of over 300 feet from boom
Dual boom as an option for spraying on both sides of the unit for hard-to reach areas
Hydraulic hose reel with Reel-In and Reel-Out functionality
Revolutionary integrated bale grinder for faster and more efficient loading
Helical designed agitators improves material movement within the tank for more efficient mixing and circulation
Revolutionary long-life, low maintenance agitator bearings
Interchangeable centrifugal and vortex pump
Centralized lubrication/service points for increased unit serviceability
Larger gates and open-space design dramatically increases the amount of usable storage space on top of the tank
Remote control seamlessly integrated into the unit control system to easily control the pump while working with the hose
technical specifications