Purchase one of the FINN hydroseeders©, Straw Blowers or Bark Blower models listed in chart and receive the corresponding immediate cash discount!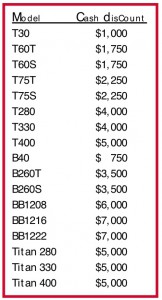 While it's freezing outside, take advantage of this hot deal to get a jump start on your spring season. Contact us, hydrograsscorp.com, your local FINN dealer.
Eligible Dates: Orders must be received between December 15, 2014 and February 28, 2015. Customers must accept delivery on or before March 31, 2015.
Cash Disbursement: Discounts are recognized on purchase orders. Cash will not be given in place of the discount.
Considerations/Restrictions: Limit (1) cash discount per model purchase. Offers for end users available to participating N. American customers in non-occupied dealer territories at time of sale. Fraudulent submissions will not be honored and may be prosecuted. FINN is not responsible for non-complying submissions or for lost, late, illegible or purchase orders not received during period of promotion. Void where taxed, restricted or prohibited by law. All decisions made by FINN relating to the validity of any submissions are final and binding. FINN reserves the right to withdraw, change or modify any terms, errors and/or omissions relating to purchases or submissions. Retain copies of the materials you submit.