Innovate and Outperform! Large Tank Hydroseeders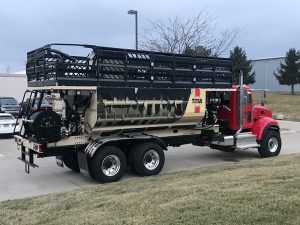 These two pictures say it all. Anyone who has ever looked inside or at the outside of a Finn Titan Hydroseeder can tell this is a total redesign with the focus on performance; load faster, spray farther and empty quicker. Anyone who has been in this business know that's what it's all about. The sooner you can cycle that tank the more money you make.
Finn invented the hydroseeder in 1953. In the last 10 years the erosion control industry has changed dramatically The nature of consumable products has changed and so have the performance expectations of engineers, environmentalists and your customers. The equipment needed to change.
hydrograsscorp.com is proud to welcome the new Finn Titan HT 330/400 to the Finn family of hydroseeders. What are the most important features and changes that have been incorporated in this redesign?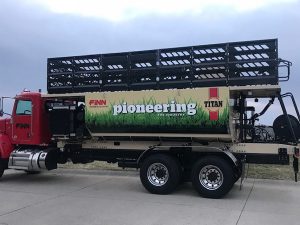 Engine-The new 173 HP John Deere Tier 4 Final engine is now located at the front of the tank away from the operator.
Pump Options-Two hydraulically-driven interchangeable pump systems are now available; centrifugal and/or vortex.
Agitation- Mixing is now accomplished with two relocated, variable speed agitators with helical design. Agitator speed is independent of engine rpm.
Loading- Filling the tank is now accomplished through a raised loading hatch below which there is a bale grinding system integral with the upper agitator.
Dust is minimized through the use of a water curtain.
Material transport- The tank top is load rated with integral tie downs.
Less Maintenance Time-Equipped with long life low maintenance agitator bearings and centralized lubrication points.
Contractors look to Finn for superior performance and quality. Rest assured that Finn will continue to innovate, educate, support and manufacture at the highest level outperforming the competition at every level.