Wednesday 10/12/16, 240 Stage Rd., Nottingham, NH 03290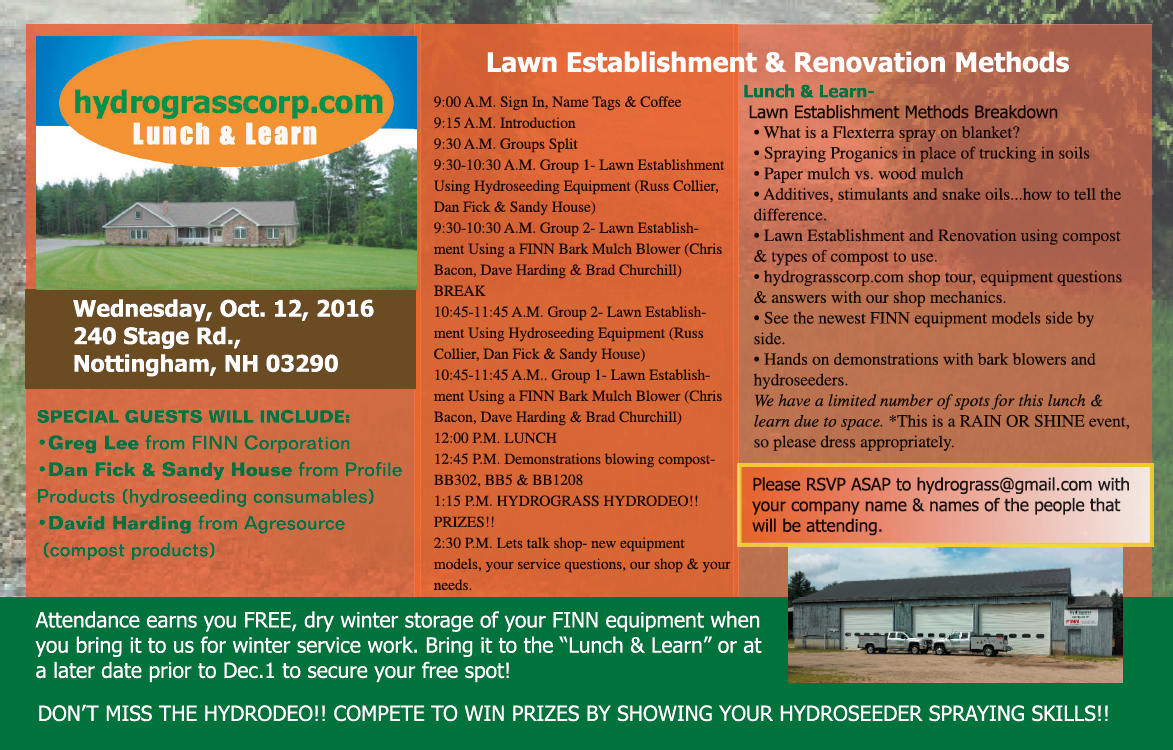 Lunch & Learn- Lawn Establishment Methods Breakdown
What is a Flexterra spray on blanket?
Spraying Proganics in place of trucking in soils
Paper mulch vs. wood mulch
Additives, stimulants and snake oils…how to tell the difference.
Lawn Establishment and Renovation using compost & types of compost to use
hydrograsscorp.com shop tour, equipment questions & answers with our shop mechanics
See the newest FINN equipment models side by side
Hands on demonstrations with bark blowers and hydroseeders
---
Lunch & Learn- Lawn Establishment & Renovation Methods
9:00 A.M. Sign In, Name Tags & Coffee
9:15 A.M. Introduction
9:30 A.M. Groups Split
9:30-10:30 A.M. Group 1- Lawn Establishment Using Hydroseding Equipment (Russ Collier, Dan Fick & Sandy House)
9:30-10:30 A.M. Group 2- Lawn Establishment Using a FINN Bark Mulch Blower (Chris Bacon, Dave Harding)
BREAK
10:45-11:45 A.M. Group 2- Lawn Establishment Using Hydroseding Equipment (Russ Collier, Dan Fick & Sandy House)
10:45-11:45 A.M.. Group 1- Lawn Establishment Using a FINN Bark Mulch Blower (Chris Bacon, Dave Harding)
12:00 P.M. LUNCH
12:45 P.M. Demonstrations blowing compost- BB302, BB5 & BB1208
1:15 P.M. HYDROGRASS HYDRODEO!! PRIZES!!
2:30 P.M. Lets talk shop- new equipment models, your service questions, our shop & your needs
We have a limited number of spots for this lunch & learn due to space.
Please RSVP ASAP to hydrograss@gmail.com with your company name & names of the people that will be attending.
Also, this is a RAIN OR SHINE event, please dress appropriately!
ATTENDANCE EARNS YOU FREE, DRY WINTER STORAGE OF YOUR FINN EQUIPMENT WHEN YOU BRING IT TO US FOR WINTER SERVICE WORK. BRING IT TO THE LUNCH & LEARN OR AT A LATER DATE PRIOR TO 12/1 TO SECURE YOUR FREE SPOT!!
DON'T MISS THE HYDRODEO!! COMPETE TO WIN PRIZES BY SHOWING YOUR HYDROSEEDER SPRAYING SKILLS!!
SPECIAL GUESTS: GREG LEE from FINN Corporation, DAN FICK & SANDY HOUSE FROM PROFILE PRODUCTS (hydroseeding consumables) AND DAVID HARDING FROM AGRESOURCE (compost products)