FINN Takes a Bite of the Big Apple ~ a hydrograsscorp.com customer profile
Finn & hydrograssscorp.com in NYC
Adam's European Contracting, Inc. of Brooklyn, New York, is an award winning general contracting construction company that specializes in exterior renovation work,including masonry, roofing, excavation, and stone work for public agencies and commercial buildings.
Malgorzata Skarzynski, a Polish immigrant, established the company in 1994 and under her leadership has expanded its construction services to cover all five boroughs of New York City and now employs nearly 500 people.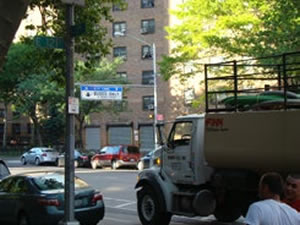 Recently, Adam's was faced with the city requirement to revegetate any little bit of grass that surrounds public buildings on its construction projects. Typically, storage and staging of scaffolding will ruin the grass, so the company began hand seeding and hand covering these areas with straw to try and meet the city requirements. Unfortunately, parts of the city seem to have the "wind tunnel" effect that afflicts many larger metropolitan areas, and it was feared that the straw wouldn't stay in place well enough to protect the seeds and allow germination.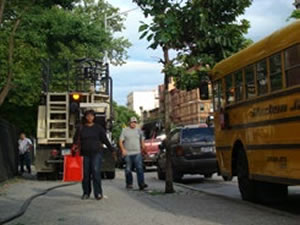 After researching the marketplace and talking with Sales Representative Chris Bacon of hydrograsscorp.com, the Finn distributor covering the Northeast U.S., Adam's European purchased a Finn T330 HydroSeeder®. Some might think that this is a little too much machine for these relatively small coverage areas within the city; however, Adam's has a longer-term plan to acquire landfill work on Long Island, and it already has a project coming up that includes capping and seeding a large illegal dump site.
The photos at left show Adam's T330 at a school renovation project in the Harlem section of Manhattan. The efficiency and effectiveness of using the Finn HydroSeeder on these construction sites already has the company realizing fewer labor hours and quicker, more even seed germination. There is no longer any worry about reestablishing vegetation.,/p>
Later this summer, Chris will be back in Brooklyn to assist Adam's with their Long Island landfill business strategies. "It's a great feeling of accomplishment to help a customer overcome a challenge like this," said Chris. "The success of this initial deal bodes well for our future relationship both for hydrograsscorp.com and Finn."