MTS vs. BB302….Customer Wins
Hydrograsscorp.com has many customers based on Cape Cod that attribute much of their success to Finn Equipment. One company in particular employs three different types of Finn Equipment.
Who are they?
They are a family owned landscaping company providing professional landscaping services to residents and commercial properties on Cape Cod and Southeastern Massachusetts since 1973. They provide a full range of landscaping services from complete maintenance programs, to landscape design and landscape construction. To help them provide such services they have a well stocked tool box that includes a Finn Hydroseeder, a Finn Bark Blower and a Finn MTS.
In 2001 the company purchased their first Finn machine, a model T-30 Hydroseeder. That hydroseeder is still being used today. In 2005 the sales team of our featured landscape company had taken on more maintenance work than they had planned for. Many of these accounts required large volumes of mulch be installed each spring. Rather than adding more people the company made a decision to take a look at the Finn Bark Blower model BB302. After a short demonstration they were quickly convinced that the blower unit would save them the time and man power they needed to accomplish the workload they had ahead of them.
In a recent conversation with the owner the question was asked, "How can you justify owning a machine that you utilize for a mere four months a year?"
The answer from the seasoned landscaper was that the labor and materials (mulch) saved in that short four months every year more than makes the payments on the equipment and allows his company to grow without the addition of more people.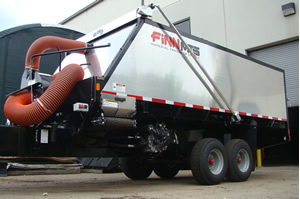 In 2009 the innovative team of engineers at Finn launched a new idea, a new and exciting piece of equipment, the Finn MTS. The Material Transfer System, would primarily be used for the delivery of mulches, loam and aggregates either quick dumped into a pile or fed at high speeds, from either side of the unit, into a skid steer bucket or wheelbarrow without any mess or back breaking shoveling. Other uses would include utilizing the live floor to deliver sod, pavers & nursery stock and in the fall using the high powered leaf vacuum for pick up of more than 15 cubic yards of material per load.
By 2012 this growing Cape Cod based landscape company had outgrown the Bark Blower and was considering the addition of a second unit until they got wind of the Finn MTS. They immediately saw the potential in the unit and asked that Hydrograsscorp.com bring one to them for a demonstration. Upon inspection of the unit they were immediately pleased with the heavy duty construction and the electronically controlled hydraulic system in place of what could be belts or chains. After a demonstration of its features the owner and his team decided to purchase the unit. After nearly a full season of ownership, hydrograsscorp.com sat down with the group to try to gain a better understanding of why the MTS and not another blower. Here is what they found out:
Q. Why did you ultimately decide to buy the Finn MTS instead of another Bark Blower?
A. We saw the unit as more than just a mulch machine. We have used it for things that our blower will not handle such as aggregate, loam and stringy wood chips. We have made our crew much happier to come to work each day and not be shoveling stone or loam from the back of truck. In many cases we have eliminated the need for a skid steer on site as well. Most times it is not as fast as the mulch blower when using it for mulch but in instances where we need 6 yards on a job with many small beds (which is a lot of our jobs) it is nearly as fast, if not faster. The reason is, is that it takes time to set up hose and take care of hose and in very small beds with annuals and statuary it is much easier to make a mess with the blower than with the MTS, which in the end creates more clean up time. Our guys call this unit the Major Time Saver. We still utilize the blower on our larger jobs but use the MTS on all the smaller sites. We also bought the MTS for the leaf vacuum unit. Although we haven't yet hit leaf season it appears as if it will have plenty of power to pick up leaves and yard debris on our properties. We certainly couldn't do without our Finn Bark Blower and would not want to be without our Finn MTS either as they are both great assets to our company.
Today our featured Cape Cod landscaper continues to be successful by use of their knowledge of the industry, their impeccable customer service and their investment in equipment to help them work smarter not harder.